The Biciclettami polo shirt recuperates stylistic elements of the past giving life to an original garment that has its own history. The characteristic pockets with small buttons inspired by the cyclist's wool jerseys of the '30s and'40s, make this article unique. We are talking about the same jerseys that Gino Bartali, my grandfather, wore, and in whose pockets ended up sandwiches, chicken and bananas. These big functional pockets, well underlined in many vintage photos, have been reduced and proposed on a modern polo shirt.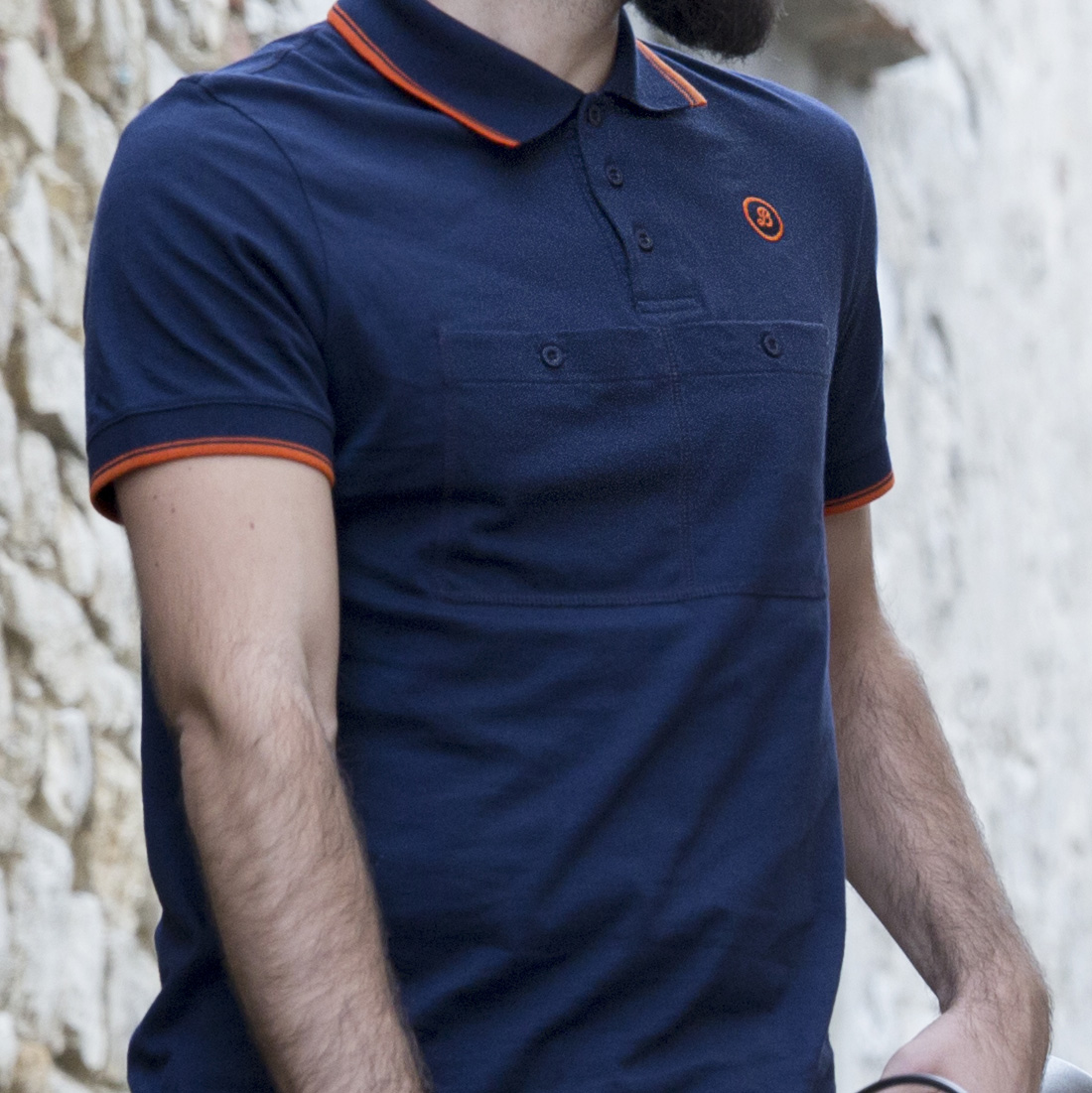 Design and production are Made in Italy. The product has been disigned in Italy and sewed up in small Italian laboratories. We valued this article studying every detail, letting "style, functionality and quality" live in a unique garment. The fabric is pure cotton of high quality. With soft touch and comfortable to wear in every season. The three-coloured flag sewed on each article identifies the origin of the product of Italian manufacture, underlining our hand-crafted and tailoring tradition, of which we are very proud.
The details are cared for in the best way to offer a product of quality. Together with our team of model makers we studied a Slim-Comfort fit in order to wear the polo shirt in every moment of the day. The shape is slightly waisted and this allows people to move easily on the bicycle. This item keeps the whole comfort of a sporting garment, proposing itself in an innovative style. The matching of the colours, the strong orange in contrast with the deep blue, confer a sophisticate aspect to a casual garment. From this stylistic research, that combines the old and the modern, a new polo is born.
A conceptual polo that uses the pockets as an aesthetic key element. Without losing their original functionality, the pockets are also a symbol, more than an instrument. Thought for the urban cyclist and for whoever wishes  to wear an original polo shirt. A daily garment is born, that recalls us to a fascinating world well known to us: the heroic cycling of a far, but living age. A source of inspiration, in this case also stylistic.
Pick your vintage polo shirt now!
Questa pagina è disponibile anche in: Italiano